---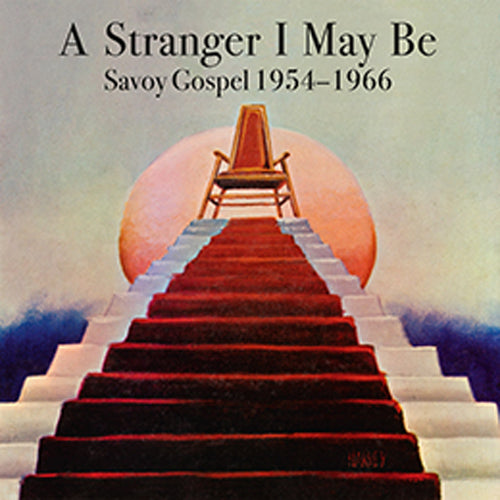 pre order item shipping around the 15th 
October
 2020
A Stranger I May Be

Savoy Gospel 1954-1966

LP x 2, HJRLP079

The first of three volumes: stomping, rollicking gospel music, intermingling with raw soul, searing blues, hard-rocking doo-wop and jazz, and storming r&b.

Infused and incandescent with the hurting, surging indignation of the Civil Rights movement, here are twenty-four precious scorchers by giants like the Staple Singers and Jimmy Scott, alongside devastating sides by less celebrated names like the Harmonising Five of Burlington, North Carolina, and teen-group the North Philadelphia Juniors, culminating triumphantly with slamming, sanctified versions of Hit The Road Jack and Wade In The Water.

Gatefold sleeve, with full-size booklet; beautifully designed, with stunning, rare photographs and original Savoy artwork.

A1. Famous Ward Singers - I'm Getting Richer
A2. The Harmonizing Five - I Don't Need Nobody But The Lord
A3. The Sensational Six - Let Freedom Ring
A4. The Gospel Harmonettes Specials - How Much More
A5. The Christones - Lord, It's Me
A6. The Staple Singers - Low Is The Way
B1. Swindell Brothers - Trouble Of Mine
B2. The Roberta Martin Singers - I'm Glad I'm A Witness For My Lord
B3. Jimmy Scott - Sometimes I Feel Like A Motherless Child
B4. Shirley Caesar And The Caravans - He First Loved Me
B5. The Blind Boys of Alabama - On Some Day
B6. The Hightower Brothers - He That Believed
C1. North Philadelphia Juniors - There's Something Within Me
C2. The Selah Singers - The Wicked Race
C3. The Ward Singers - Let The Train Roll Easy
C4. The Stars of Faith - Mean Old World
C5. Marion Williams - Get Your Business Right
C6. The Gospel Cavaliers - Are You Listening
D1. The Caravans - Mercy
D2. Eddie Williams and the Crusaders - They Won't Believe In Me
D3. The Davis Sisters - Earnestly Praying
D4. The Gospel Chimes - My Jesus Love Just Bubbles Over
D5. The Angelic Gospel Choir - It's The Holy Ghost
D6. The Angelic Choir - Wade In The Water
An extensive, sumptuous survey of surely the mightiest Gospel label of them all, Savoy.

Drawn from nigh-impossible-to-find 78s, sevens, twelves and LPs, hardly any of these recordings - perhaps none - have been reissued since their first release.

Co-curated by Greg Belson, compiler of Divine Disco; with deep, extensive notes by Robert Marovich, author of A City Called Heaven: Chicago and the Birth of Gospel Music (University of Illinois), and host of the award-winning radio show Gospel Memories.

Sound restoration and mastering at Abbey Road; vinyl pressed at Pallas.