---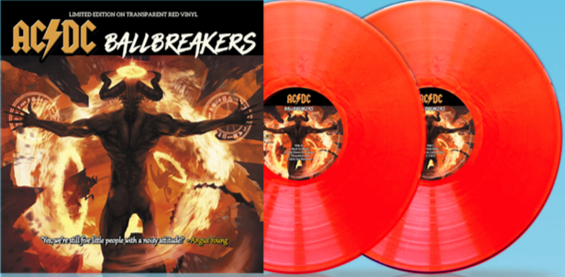 AC/DC
Ballbreakers (Red Vinyl)
Cat No: CPLTIV027 // Barcode: 5060420345896
Format: 10 " X 2
This is the powerful record of the Brian Johnson incarnation of AC/DC performing in concert during the 1996 Ballbreaker tour.
Ballbreaker was the 13th studio album by AC/DC, it marked the return of veteran drummer Phil Rudd
and the AC/DC sound suddenly regained its unique raw quality.
Stand out tracks such as Boogie Man and Hail Caesar quickly became crowd favourites.
Here is the positive proof of just how good the revitalised band were onstage at work promoting a dynamite new album.
This Deluxe Collectors Edition includes:
• AC/DC - Ballbreakers - Full Length E-Book
• AC/DC - The Brian Johnson Years Documentary Film
Side A
1. Back In Black
2. Shot Down In Flames 3. Thunderstruck
4. Girls Got Rhythm)
Side B
1. Boogie Man 2. Hail Caesar
Side C
1. Hells Bells
2. Whole Lotta Rosie 3. T.N.T.
Side D
1. Let There Be Rock