---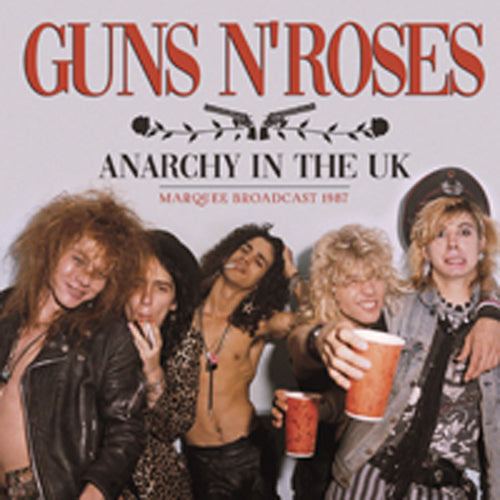 pre order item shipping on or around the release date 
*New Release*
released on 10th October 2020
ANARCHY IN THE UK 
by GUNS N' ROSES 
Compact Disc
SMCD976
Label: SMOKIN 
LEGENDARY 1987 UK BROADCAST FROM AN EARLY GUNS N' ROSES 
On 28th June 1987, the recently formed Guns N' Roses became the latest addition to a distinguished list of artists who cut their teeth

internationally at London's famous Marquee Club. Early followers of the up-and-coming band paid a princely admission fee of £4 to

enter the celebrated Wardour Street location and see G N' R's first-ever gig outside the US.

The show took place in the very week that Guns N' Roses first flickered on the UK sales charts. But they were still very much below

the radar. The published singles chart was a top 75, so their new release 'It's So Easy' was largely hidden from view as it entered the

20 June listings at No. 84. That turned out to be its peak, with two further showings at 96 and 88.

The band also made a slow start with their debut album Appetite For Destruction. The future classic debuted in the UK at No. 68 inearly August. It didn't really hit its chart stride until well into 1989. But in the meantime, that London visit was helping to fuel the fire.

This show was perhaps the main catalyst for Guns' success in the months to follow, notably outside the US, prompting much media coverage and then heavy radio play and MTV rotation.

Previously unreleased, this remarkable and legendary gig is now available in its completion on this CD for the first time.
1 Welcome To The Jungle  4:57
2 Out Ta Get Me  4:57
3 Rocket Queen  7:10
4 Nightrain  4:00
5 My Michelle  4:23
6 It's So Easy  3:30
7 Mr Brownstone  4:02
8 Don't Cry  5:11
9 You're Crazy  4:25
10 Paradise City  6:51
11 Whole Lotta Rosie  7:38
12 Knockin' On Heaven's Door  4:38
13 Move To The City  3:18
14 Mama Kin  4:22