---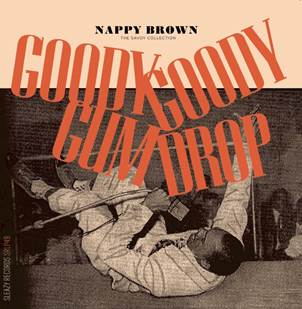 pre order 
expected 5/5/21
BROWN, Nappy
"Goody Goody Gum Drop – The Savoy Collection"

Format: LP
Cat No.: SRLP49
Label: SLEAZY RECORDS
Barcode: 5805280851206



On October 12, 1929, Kathryn Culp and Sammie Lee Brown had the idea to name their first-born baby Napoleon. With such a vital beginning, little Nappy was already predestined to hit the mark, so from a very young age he stood out for his vocal qualities, well cultivated in gospel, which he practiced assiduously in The First Mount Zion Baptist Church run by his father.
To Mr. Brown's chagrin, after his first forays into religious music participating in vocal gospel groups such as The Golden Crowns, Golden Bell Quintet and The Heavenly Lights, with whom he recorded his first single for Savoy in 1954, the young Napoleon decided to try his hand at secular music, convinced by Herman Lubinsky, the big boss man of the New Jersey label.
In this way, between 1954 and 1962, Napoleon recorded a total of 28 singles at Savoy, clearly marking the transition from Rhythm & Blues to Rock'n'Roll, and also his subsequent jump to Soul, being the natural link between the late 40s southerners like Wynonie Harris or Big Joe Turner and artists like Jackie Wilson or James Brown, who cemented the black sounds of the 60s.
This LP includes a compilation of some of his best songs at Savoy, high class rock'n'roll, with a lot of dancefloor favourites like DON'T BE ANGRY, compiled in its two versions, or JUST A LITTLE LOVIN ', but also his more Bluesy sides, with songs like the fabulous DOWN IN THE ALLEY, which would be recorded years later by that certain singer born in Tupelo, Mississippi, that many times declared how much he dug Nappy Brown's Rhythm & Blues. 
In the same bluesy way Nappy wrote the iconic THE RIGHT TIME, one of the first stones of the Soul cathedral, originally recorded by Nappy on 1957, and revised one year before by Ray Charles.  Ray's version, renamed Night Time Is The Right Time, would be included as the main theme of the award-winning film IN THE HEAT OF THE NIGHT.  We´ve also included Nappy's own answer to this song, recorded in 1961 and titled as ANY TIME IS THE RIGHT TIME.  
Finally can´t avoid to name some of the backing musicians you´ll hear in these tracks, Sam 'The Man' Taylor, Mickey Baker, Panama Francis… have a look on notes bellow, oh boy! the A-Team of the mid-century New York Rhythm & Blues! 
Nappy disappeared from the music scene in 1962, remaining anonymous until 1969, when he would return to Rhythm & Blues on Elephant Records with an LP whose title could not be more eloquent: THANK YOU FOR NOTHING.
Since then, Nappy was very active until his death in 2008, alternating his love for gospel and Rhythm & Blues, touring the United States and Europe and releasing no less than a dozen LPs.