---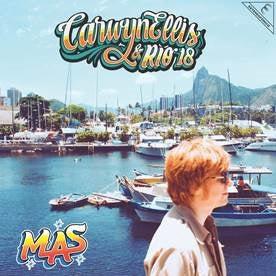 pre order 
expected 25/3/21
CARWYN ELLIS & RIO 18

MAS

BANANA & LOUIE RECORDS

Format:

 CD 

Cata No:

 B&L006CD 

Barcode:

 8437018437092



Never one to sit still, Carwyn Ellis is continuing his voyage into Latin Americana with the release of his second album with Rio 18, 'Mas'.

Like it's predecessor, the acclaimed 'Joia!', this album is a collection of songs sung in Welsh combined with distinct pop and South American flavours drawn from Bossa Nova, Cumbia, Samba and Tropicalismo styles, recorded in Rio de Janeiro, Caernarfon and London.

Mas feels strangely right for our times: an album whose title means several things, as befits its global outlook. Mas means "out" in Welsh, "more" in Spanish, and "but" in Portuguese: these meanings filling that single syllable with promise, potential, but also the subtle edge of a warning. It's a mood that fits the more political tenor of Rio 18's second turn around the world, as Carwyn and his friends explore some substantial subjects: the drowning of villages, climate change, migration and the rise of megacities. They do so not in sober, serious settings, but beautiful, uplifting songs. Other tracks also celebrate the vivid pleasures of love, nature and our essential humanity.

Mas is a record of beautiful songs that says, wait, listen, delight, come together, then act. We owe it to ourselves, to each other, to our beautiful world.