---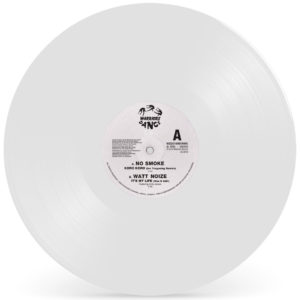 No Smoke / Watt Noize 
Koro Koro (Ian Tregoning Rewire) / Its My Life (Max D Edit)
(White Vinyl Repress)
LABEL: Warriors Dance


FORMAT: 12" VINYL
CAT NO: WD2018001RMXWHITE


TRACK LISTING

A1. No Smoke - Koro Koro (Ian Tregoning Rewire)

B1. Watt Noize - Its My Life (Max D Edit)

DESCRIPTION

Presenting the first in a series of respectful and legit reissues from one of the UK's most well loved underground record labels:

London's Warriors Dance label was a unique operation and a pioneering London label during the late 80's acid house phenomena. Home to an assortment of DJs, MCs and soundmen , they went on to make their own original and indelible mark on the rave scene from the infamous 'Addis Ababa' studio on Harrow Road on the North-West side of the city. A former reggae and soul studio that was instrumental to the output of influential artists like Soul II Soul and more, a steady diet of reggae, bass, hip-hop, house and techno kept their edgy, and diehard UK sound and style right at the cutting edge of the dance music underground across the globe with the top DJs and producers of the day celebrating the label. The studio, helmed by label owner Tony 'Addis', acted as an incubator for artists whose names would go down in the history books - No Smoke, Bang The Party, The Addis Posse, Melancholy Man, Hollywood Beyond, The Housemaids and more all featured heavily on the label and contributed to its legendary output. The attitude and approach to the music was utterly and unapologetically a London thing, with heavy African and Caribbean influences also drawing on the sounds emanating from Chicago, Detroit and further afield. Years later, and with the advent of the internet, Discogs, Youtube and any other digital platform you'd care to mention, Warriors Dance continues to be discovered and rediscovered again by curious diggers and music heads with a thirst for heavyweight tracks to play in their DJ sets. This saw the WD mythology rise again, making their records much sought after by fans from all over the world.

No Smoke's 'Koro Koro' is one such record. Undoubtedly an anthem. A classic. A game-changer. It's one of those records that spread across the world on its release and in its subsequent life thereafter. Literally caned by any DJ worth his salt in 1989 and beyond, this storming, eerie and driving tribal house monster was a huge hit. Licensed and re-released time and time again, and still causing havoc on dance floors in 2018, 'Koro Koro' ushered in a new style of Afrocentric house music, something new, unique and timeless. To inaugurate this incredible reissue series we have original Warriors Dance engineer and studio wizard, Ian Tregoning's special 2018 'rewire' of the track, a faithfully updated, stripped back and reimagined version whose lithe, minimal, streamlined and spatial lines catapult this London warehouse classic deep deep into the future. A truly special remix created specially for this project.

B-side 'It's My Life' is perhaps a little less 'known' than 'Koro Koro' but it is just as deadly. Mining a different sonic furrow to the A-side this 1991 breakbeat/hip-house hybrid absolutely pummels a sound-system (in the best way). The original version saw MC Watts Noize dropping bars of wisdom about making his way in an ever confusing world across a backdrop of chopped up breaks, deep sub-bass rumbles and euphoric, angelic synth pads. The special version featured on this 12" sampler is the infamous (almost) instrumental re-edit from Beautiful Swimmer Max-D. This is the first time this version has ever been made available, having only been out there in the world as a much obsessed over Youtube upload and as one of the highlights of Beautiful Swimmers 2015 Trilogy Tapes mixtape. Super heavy, it will undoubtedly whet the appetites of those who've been screaming for a physical release.

Special mixes & edits courtesy of Ian Tregoning and Max-D. Mastered by Optimum Mastering, Bristol UK. Proudly distributed by Above Board distribution. 2018.