---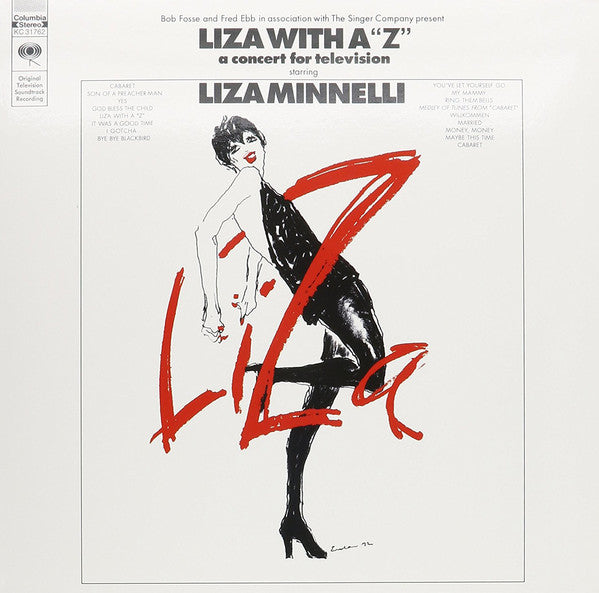 pre order 
pre order 
expected 25/02/21
Liza Minnelli: Liza With A "Z"
  Columbia KC 31762
Liza Minnelli: Liza With A "Z"
Barcode: 4260019714954
Format: 1LP 180g 33rpm /standard sleeve
"Liza With A Z" - Liza Minelli & orchestra
Tracklist
A1

Yes

3:16

A2

God Bless The Child

2:59

A3

Liza With A "Z"

3:15

A4

It Was A Good Time

4:58

A5

I Gotcha

3:48

A6

Ring Them Bells

5:44

B1

Son Of A Preacher Man

3:22

B2

Bye Bye Blackbird

3:58

B3

You've Let Yourself Go

3:57

B4

My Mammy

3:03

Medley Of Tunes From Cabaret

(10:22)

B5a

Willkommen

B5b

Married

B5c

Money, Money

B5d

Maybe This Time

B5e

Cabaret

B5f

Bows (Liza)
"Liza With A 'Z'" is a multi-media production that has been showered with superlatives. It won numerous awards, including those for Choreography and Direction. However, a further award for the music composed by John Kander and Fred Ebb is probably the main reason for the show being released on a record, i.e. just for the ears. But the plan bore fruit, and the LP rocketed onto the Billboard 200. It was to be Liza Minnelli's best chart hit ever – and it could even be called the soundtrack of her life.
Great favourites such as "Ring Them Bells" and "Bye Bye Blackbird" are set alongside sharp rhythm and blues numbers ("Son Of A Preacher Man", "I Gotcha"). Taking centre stage is a 10-minute medley from the film adaptation of the musical "Cabaret" that was shown in the cinemas also in 1972 and which brought Minnelli her international breakthrough.
All that remains of this costly and glamorous television event, which was only broadcast a few times on US television after the premiere, is the original music on record. Here it is once again in all its glory and with a new freshness.
This Speakers Corner LP was remastered using pure analogue components only, from the master tapes through to the cutting head. More information under www.pure-analogue.com.
All royalties and mechanical rights have been paid.
Recording: 1972 at Lyceum Theater, New York, by Phil Ramone & Arthur Kendy
Production: Andrew Kazdin