---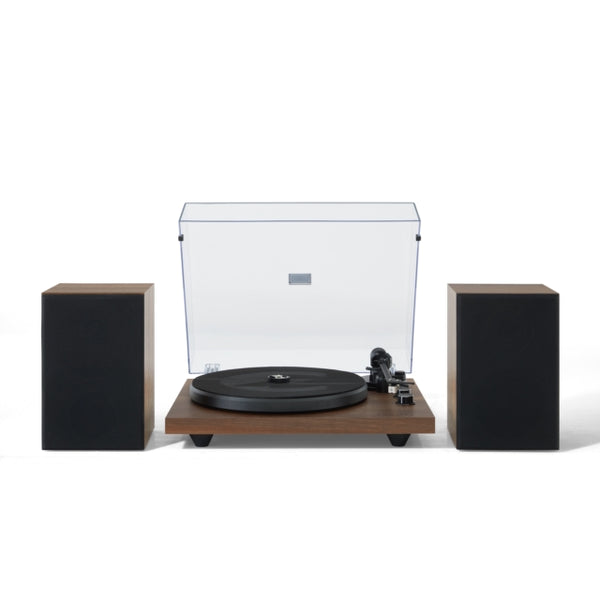 C62 Shelf System (Walnut)
Catalogue No:C62C-WA4
Barcode:710244254298
Brand/Supplier:CROSLEY
Weight:7000g
Dimensions:491 x 400 x 416 (mm)
Number of Items:1
Manufacturer:CROSLEY
The Crosley C62 was designed to be a ready-to-go-sounds-darn-good-straight-out-of-the-box turntable system that doesn't break the bank. This fully manual two-speed (33 1/3 & 45 RPM) turntable sports an MDF plinth wrapped in a faux walnut veneer that would fool the best of lumberjacks. The matching MDF speakers look just as good as the turntable and each rock a mid-range speaker and tweeter. The matte black aluminum tone arm has an adjustable counterweight and comes pre-mounted with a moving magnet cartridge. Of course, the cartridge is mounted with the standard 1/2" mount, so you can always upgrade your cartridge/stylus combo as your vinyl collection grows. The record sits on a heavy steel platter that helps keep the C62 firmly planted on its three vibration control feet. Take that, rogue vibrations! The super minimal, two-knob design makes it easy to switch speeds, crank up the volume and switch to the built-in Bluetooth receiver if you want to stream music from your favorite digital playlist. Whether you live in a sweet NYC loft or a teenage bedroom filled with angst, the C62 can hold its own.
16.14" W x 18.7" D x 15.55" H
2-Speed Turntable (33 1/3 & 45 RPM)
Built-in Bluetooth Receiver
External Full-Range Stereo Speakers
Pre-Mounted Moving Magnet Cartridge
Adjustable Tonearm Counterweight
Aluminum Tonearm
Audio-Grade MDF Plinth
Low-Vibration Synchronous Motor
Switchable Preamp
Belt-Drive Motor
Vibration Control Feet
Cueing Lever
RCA Output
Clear Dust Cover
Turntable Dimensions: 5" x 16.5" x 13.5"
Speaker Dimensions: 9.875" x 6.25" x 6.25"
NO OVERSEAS SALES AVAILABLE ON THIS . WE ARE ONLY SHIPPING TO UK ADDRESSESS