---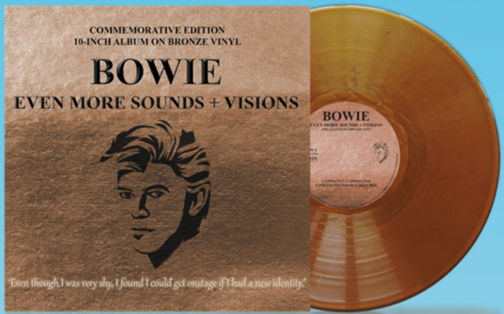 DAVID BOWIE
Even More Sounds + Visions (Bronze Vinyl)
Cat No: CPLTIV023 // Barcode: 5060420345797
SINGLE VINYL 10" LP
Pressed on bronze vinyl, here is the latest Bowie release in the 10-inch Sounds + Visions vinyl album collector's series, all pressed on coloured vinyl.
This is the third in the trilogy of 10-inch Bowie albums from Coda which completes the Bowie Sounds + Visions in-concert series.
The album was produced in response to popular demand and this single edition features the remaining tracks,
including some rarities, which could not be fitted onto the previous two albums in the series.
Side A
1. Golden Years
2. Alabama Song
3. John I'm Only Dancing 4. Queen Bitch
Side B
1. Fame - Fame 90
2. Pretty Pink Rose
3. Waiting For The Man