---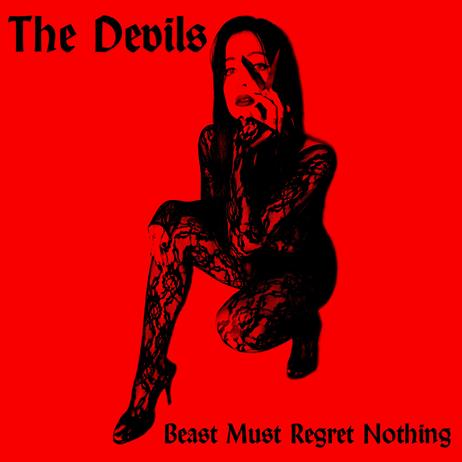 DEVILS - Beast Must Regret Nothing   
Format: vinyl LP
Catalogue:  GF2833LP
Barcode: 8056099004834


This is Gianni and Erika third album, after two works released by Voodoo Rhythm Records and produced by Jim Diamond, musician and producer for two iconic bands from Detroit, The Dirtbombs and The White Stripes.
The record features former Screaming Trees vocalist - and acclaimed solo artist - Mark Lanegan and Chilean multi-instrumentalist Alain Johannes (Queens Of The Stone Age, Spinnerette, Ten Commandos, The Desert Sessions).

"The title track of the new album was born during our last day of re-cordings" - says Gianni Blacula and Switchblade Erika.. "Alain is an enthusiast of strings instruments, and on the last day he arrived at the studio with a Neapolitan mandola he bought in the historical centre of Naples. We were astonished about how a traditional instrument as the mandola can get a rock sound, so we followed up went to the recording room. Alain at the mandola and vocals and us on guitar and drums. There was suddenly the right atmosphere that to Alain reminded " the Desert Sessions" , so much that the song came out at the first take. Then Alain wrote the lyrics and the last line "Beast Must Regret Nothing" affected us , we have chosen it as the title of the album because it totally reflects his mood, and it does taste of Devils!"
Gianni and Erika got in touch with Alain for the first time in September 2019, during a Spanish tour, while they were looking for inspirations for their new record.
In the same moment Alain was on a European tour which ended in Italy. The collaboration was born in a spontaneous way, for a mutual esteem between the Devils and the famous producer and musician. The album have been recorded in Naples, Italy, with a two weeks session in a historic studio equipped with a large tracking room with truly unique acoustics. Alain actively collaborated in the production of the album taking part to creative process and helping them with the arrangements.

The Devils formed in Naples in 2015 and their first two albums "Sin,You Sinners!" in 2016 and "Iron Butt" in 2017 were produced by Jim Diamond (The White Stripes, The Sonics and the Dirtbombs), pub-lished by Voodoo Rhythm Records. From 2016 the duo constantly tour, and has played everywhere doing over 400 shows between Europe and Canada.  The Devils are the sound of desolation and chaos; their style is primitive, filled with sex, sin and rock'n'roll. They are wild, loud and sexy.
The name of the band was chosen has tribute to the movie "The Devils" by Ken Russell and they have been on tour with Jon Spencer, The Sonics, Boss Hog and The Monsters, and has open act around Europe for Mudhoney, Nashville Pussy, Guitar Wolf, Kid Congo and many more.


Tracklist:
1 Roar     
2 I Appeared To The Madonna   
3 Real Man       
4 Life is a bitch 
5 Time is gonna kill me     
6 Don't call me anymore    
7 Devil whistle don't sing (feat. Mark Lanegan)
8 Ain't that lovin' you babe
9 Devil's Tritone
10 Roll with me
11 Beast Must regret Nothing (feat. Alain Johannes)