---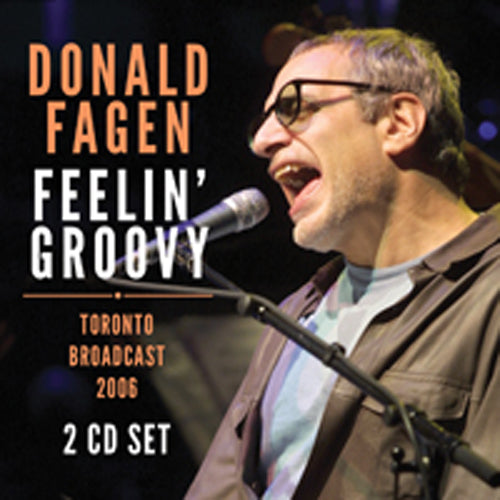 FEELIN' GROOVY (2CD) 
by DONALD FAGEN 
Compact Disc Double
GSF2CD052
Label: GOOD SHIP FUNKE
DELIGHTFUL 2006 BROADCAST RECORDING FROM THE STEELY DAN MAINSTAY
After Steely Dan's breakup in 1981, Donald Fagen released his debut solo album, The Nightfly, in October 1982. It was certified

platinum for sales of over a million copies in the U.S. and reached 11 on the Billboard Top 200 albums list.

During the rest of the 1980s, Fagen contributed to soundtracks and wrote a column for Premiere magazine. In the early 1990s, he

toured with the New York Rock and Soul Revue. Walter Becker and Donald Fagen reunited in 1986 to work on the debut album by model and singer Rosie Vela. Fagen co-produced and played keyboards on Walter Becker's solo album debut 11 Tracks of Whack (1994). Becker produced Fagen's second album, Kamakiriad (1993), which was nominated for the Grammy Award for Album of the Year.

Fagen's third solo album, Morph the Cat, was released on March 7th, 2006, and featured Wayne Krantz (guitar), Jon Herington (guitar), Keith Carlock (drums), Freddie Washington (bass), Ted Baker (piano), and Walt Weiskopf (sax). It reached 26 on Billboard Top 200 albums list.

In the wake of his new album's release, Donald went out on tour and just a week after the record hit the shops, alongside his band –which features an expanded version of the musicians on the album, played at Toronto's Massey Hall for a stunning show that wasrecorded for live FM radio transmission.

Previously unreleased, this remarkable show is now available in full on this 2-CD set, providing fans with a delightful listening experience in perfect sound quality.
DISC ONE
1 Green Flower Street  4:04
2 The Nightfly  7:48
3 New Frontier  5:40
4 Brite Nitegown  7:36
5 Band Introduction  2:16
6 Snowboound  7:41
7 Home At Last  7:17
8 Black Cow  6:17
9 What I Can Do  6:53
10 The Goodbye Look  8:17
11 Countermoon  5:12
DISC TWO
1 Miwery And The Blues  8:29
2 Mary Shut The Garden Door  6:55
3 IGY  6:33
4 FM  5:47
5 Pretzel Logic  6:44
6 Viva Viva Rock 'N' Roll  2:44