---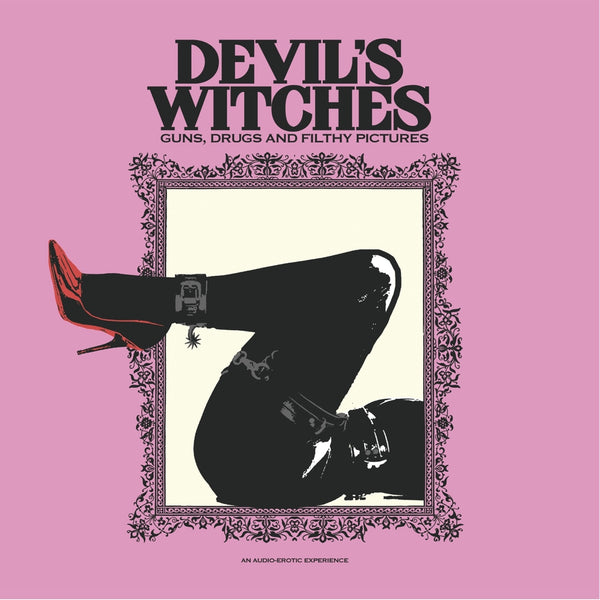 GUNS, DRUGS AND FILTHY PICTURES 
by DEVIL'S WITCHES 
Vinyl 10"
MMR008RSD

Label: MAJESTIC MOUNTAIN
This release from Devil's Witches marks the 3 year anniversary from the band's debut. Devil's Witches started as a one-man band and built an audience across those 3 years from initially selling a few hundred units into thousands of copies; garnering critical acclaim from Electric Wizard's Jus Oborn and Ozzy Osbourne's bassist Rob Blasko along the way. The pressings have continually sold out and became collector's items with some worth hundreds of pounds each. Having an RSD release is a special gift to the fans who have supported the music and those who have missed out. This two track release is unique in many ways. First, Andy Shardlow from The King's Pistol features as guest bassist on both tracks. Andy has guested on tracks for a split EP before with Saint Karloff and is a fan favourite bass player. Having him on this Devil's Witches release is a great inclusion. Also, the opening title track 'Guns, Drugs & Filthy Pictures' introduces another new guest in the form of lead guitar player Daniel Jones. Daniel is known online as East London Blues and famously did a much-loved cover version of the Devil's Witches track 'Motorpsycho'. Having Daniel appear on an official release will be a real treat for fans. His guitar work brings a fantastic new vibe to the band. This being his debut release with Devil's Witches, it is sure to become a collector's item. Lastly the track 'Cross My Path, I'll Cross Your Face' marks a style shift from stoner doom rock to full-on dark Country music for Devil's Witches, complete with trotting acoustic guitar, slide guitar and Hank Marvin twang. It sits in a world between Kriss Kristofferson, Johnny Cash and contemporary singer songwriter. This will be a completely unexpected genre shift and will be marked by RSD. The track is an old west fictional narrative based on an event affecting the lead performer's friend. She was stabbed outside of her house and robbed. It takes inspiration from the Clint Eastwood movie 'Unforgiven' and brings it together with the reality of knife crime in Britain and cathartic fantasy justice. It is sure to be the most special aspect of this RSD release. 
Side A
1. Guns, Drugs & Filthy Pictures
Side B
2. Cross My Path, I'll Cross Your Face