---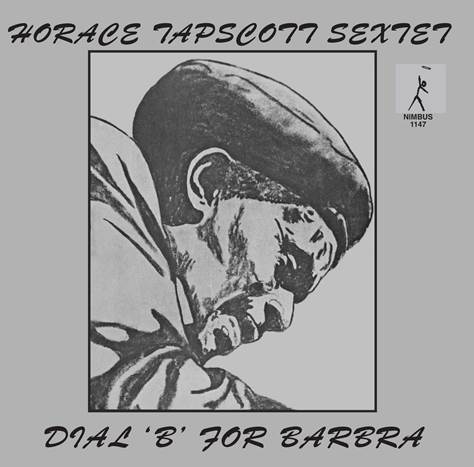 Horace Tapscott: Dial 'B' For Barbra
NS-1147
Label: Nimbus West
Cat No: NS-1147
Format: 180 gram LP x 2  gatefold sleeve
Barcode: 5060149623374
Re-mastering by: Kevin Gray
The best of pianist Horace Tapscott's recordings for the tiny Nimbus label is this 1981 LP which features him in a sextet with trumpeter Reggie Bullen, altoist Gary Bias, tenor saxophonist Sabir Matteen, bassist Roberto Miranda and drummer Everett Brown, Jr. The group stretches out on a couple of Tapscott's originals plus a 19½-minute version of Linda Hill's "Dem Folks." Although the music could be called avant-garde, its use of rhythms and repetition keep the results from being forbidding and the performances have a momentum of their own.
                                                                          Scott Yanow/AMG
A great group recording from pianist Horace Tapscott – recorded in LA in the early 80s, but done with all the righteousness and spirituality of his earlier albums! Tracks are long and exploratory, but also relatively lyrical too – stretching out with a style that's never too "outside", and which has Horace and the group really soaring to the heavens on the best moments! The group here is a sextet – with the great Gary Bias on alto and soprano saxophone, plus Sabir Matteen on tenor, Reggie Bullen on trumpet, Roberto Miguel Miranda on bass, and Everett Brown on drums and percussion – all working with a cohesiveness that reminds us of some of Tapscott's larger group recordings, but with a cleaner, leaner kind of feel. Titles include "Lately's Solo", "Dial B For Barbara", and "Dem Folks". 
                                                                     © 1996-2021, Dusty Groove, Inc.
Tracklisting
Side A: 1. Lately's Solo                10:30 
              2. Dial 'B' for Barbra        9:50
Side B:  1. Dem' Folks         19:37
Side C:  1.  Lately's Solo (take one)              17:30
Side D:  1.  Heard Ya Before Ya Got Here    9:21
 Personnel: Horace Tapscott - piano
                    Reggie Bullen - trumpet                  
                    Gary Bias – alto & tenor saxophone
                    Sabir Mateen – tenor saxophone
                    Roberto Miguel Miranda – bass violin
                    Everett Brown Jr. – drums/percussion
Produced by Tom Albach
Recorded by Dennis Moody in Los Angeles, California