---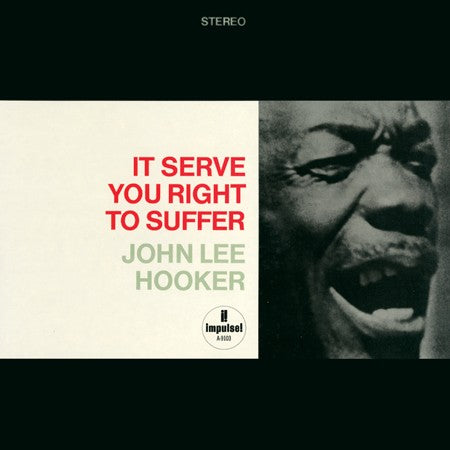 back in print at long last !!
John Lee Hooker - It Serve You Right To Suffer
(2LP 180g 45rpm)
Label:  Analogue Productions (Impulse)
Genre: Blues
Product No.: AIPJ 9103
UPC: 753088910371
Category: 2LP 180g 45 RPM
·       180-gram 45 RPM double LP
·         Mastered at AcousTech Mastering
·         Plated and pressed at Quality Record Pressings
It's back in stock! Newly repressed at 45 RPM by Quality Record Pressings. This recording was originally mastered at the former AcousTech Mastering facility and the sound is fantastic.
John Lee Hooker himself did not know his exact date of birth. If he hadn't died at around the age of 80, this ageless musician would still be easily pulling the next generation to his gigs. Hooker remains a phenomenon, a mysterious figure of black rhythm and blues, a charismatic king who reigns supreme in rock 'n' roll's Hall of Fame. John W. Peters described his music as a synthesis of scorching emotional ardour, unrelenting rhythmic intensity, and original poetry of a highly personal character. Anyone hearing him for the first time may well be startled at the unfiltered passion and power of his music.
And another surprise is in store for those who compare Hooker's late recordings with those made in the Sixties. His unmistakable, raw voice has fully matured, but his incantory style of singing appears markedly finer and more flexible. And then there is the perfect gem of a rhythm group whose sinewy sounds fill the grooves with merciless gravitational force. It's enough to make your spine tingle!
Track Listing
1. Shake It Baby
2. Country Boy
3. Bottle Up And Go
4. You're Wrong
5. Sugar Mama
6. Decoration Day
7. Money
8. It Serve You Right To Suffer