---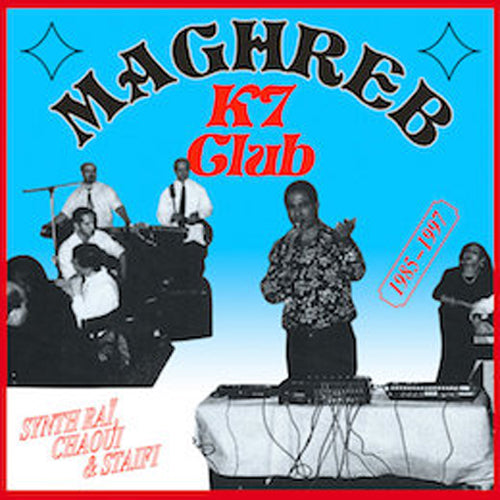 pre order item shipping around the 5th 
October
 2020
Maghreb K7 Club

Synth Rai, Chaoui & Staifi, 1985-1997


VINYL LP BJR045
01. Zaïdi El Batni - Malik Yo Malik
02. Nordine Staifi - Zine Ezzinet
03. Chabati Le Jeune - Mani Mani Maane
04. Cheb Rabah El Maghnaoui - Amayna Alik Anti
05. Nordine Staifi - Goultili Bye Bye Bnat
06. El Maâna - Hata La Lile Ya Moul Jalab Tayfiya
07. Salah El Annabi - Hata Fi Annaba
08. Mokhtar Mezhoud - Intro: Kharjet Mel Haman
09. Mokhtar Mezhoud - Rahoum Yegoulou Sabirine



"Most of Lyon's musical scene is composed of men originating from eastern Algeria, but since the 1950s, the Croix-Rousse and Guillotière cafés have counted musicians from all over Maghreb. These cafés were social hubs, where these individuals met up weekly, playing together and sharing their everyday life experience —but they also had a major role in the development of popular music of French-based North Africans. In Lyon, Le But Café in the 3rd arrondissement or the bars on Sébastien Gryphe Street in the 7th arrondissement were among these: one could conduct business there, getting booked for a wedding, a baptism, a gala, or a studio session... all took place there.

Playing together in Lyon. The practice of music was cross-regional with different North African influences, but also with local traditions. These versatile musicians also absorbed new local influences: music within the context of immigra- tion was a perfect school for musical cosmopolitanism. Chachacha or tango versions of some Cheikh El Hasnaoui tracks come to mind, or Mohamed Mazouni's jerks and twists. Like their predecessors, the musicians in this compilation brilliantly integrate raï or staïfi tunes with disco aesthetics or funk guitar riffs as Nordine Staifi did. You could also think of Salah El Annabi who used the " Oxygene " theme (1976) by Jean-Michel Jarre, the Lyon-based composer and electronic music pioneer. "As we say around here, mixed weddings make good-looking lads!" said Abbès Hamou, a musician from Place du Pont. Following on from their musical traditions and unrestrained inventiveness, the musicians' repertoire naturally assimilated their era's aesthetics and technologies."