---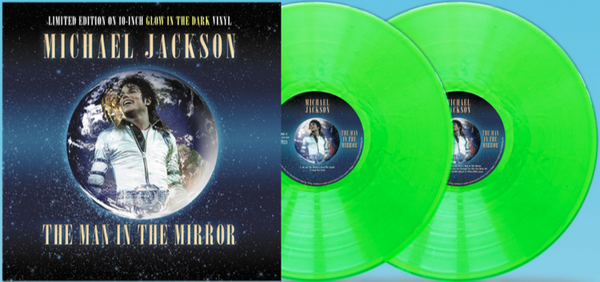 MICHAEL JACKSON
The Man In The Mirror (Glow In The Dark Vinyl)
            CPLTIV030 // 5060420345964 // 2x10"
This limited edition 10-inch collector's double album pressed on glow in the dark vinyl comes in a gatefold sleeve. This is the holy grail for fans of Michael Jackson;
a major new release featuring two incredible live-to-air performances which have never been released on record!
Includes the legendary Super Bowl performance which was broadcast live across the world on 31st January 1993.
This powerful performance stopped America
in its tracks and featured amazing live versions of Jam, Billie Jean, Black Or White, We Are The World and Heal The World. Also featured is
the heart-rending appearance at the Presidential Gala for President Clinton at which, in honour of Ryan White, Michael performed Gone Too Soon.
The special bonus feature on Side D is the celebrated Oprah Winfrey TV Special. In this no-holds-barred live interview Michael, joined by Elizabeth Taylor, gives a candid insight into his life and work.
Side A
1. The Way You Make Me Feel 2. Man In The Mirror
3. Medley (Don't Stop 'Til You Get Enough/The Way You Make Me Feel/Scream/Beat It/Thriller/ Black Or White/Billie Jean)
Side B
1. Dangerous/Smooth Criminal 2. You Are Not Alone
3. Jam
4. Billie Jean
5. Black Or White
Side C
1. We Are The World 2. Heal The World
3. Gone Too Soon
Side D
1. The Oprah Interview