---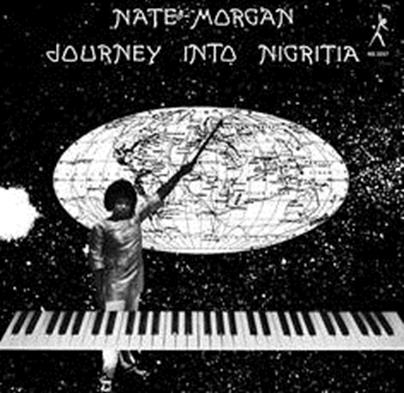 Nate Morgan:Journey Into Nigritia
Label: Nimbus West
Cat No: NS-3257
Format: 180 gram LP x 1      standard sleeve
Barcode: 5060149623428
Re-mastering by: Ray Staff at Air Mastering, Lyndhurst Hall, London
Morgan was one of the most active artists in the Los Angeles underground jazz scene, and a member of the late great Horace Tapscott's artist collective Union of God's Musicians and Artists Ascension (UGMAA). He performed alongside Tapscott, and other Nimbus recording artists like Jesse Sharps, who he introduced to Tapscott. He also performed with Arthur Blythe, Gary Bartz, Azar Lawrence, as well as soul icons Willie Hutch (notably on the Foxy Brown soundtrack) and Rufus & Chaka Khan. Most recently he contributed to Carlos Niño's 2016 album Flutes, Echoes, It's All Happening!, and was a part of Niño and vocalist Dwight Trible's soul-jazz group Build An Ark (which also featured Tribe's Phil Ranelin).
Journey Into Nigritia was Morgan's debut as a leader, and the first of three recordings he released for Nimbus West. The album has a strong post-Coltrane spiritual feel, with some modal-based melodies, and some fiery solos from saxophonist Dadisi Komolafe. The record also features a solid rhythm section featuring bassist Jeff Littleton and drummer Fritz Wise.
                                                                                Review by T J Gorton
At the dawn of the Reagan years, LA jazz pianist Nate Morgan recorded his first album for Nimbus West. Journey Into Nigritia portrays an artist marked by the icons of his day, and striving for reinvention. Although he came from a solid jazz background, coming up through the Pan Afrikan People's Arkestra, Morgan found more exciting work with pop bands in the seventies, including glory years with Rufus w/Chaka Khan. On Journey into Nigritia, Morgan re-embraces jazz. Included in the band are Jeff Littleton on bass, Fritz Wise on drums, and Dadisi Komolafe on alto sax.
The collection opens with the Trane-ish Mrafu. Komolafe blasts off in short order, and while the modal chording recalls Tyner, Morgan shows flashes of the nimble loquacious gift that define him. While Alice Coltrane incense perfumes "Morning Prayer, Morgan's devotional sincerity and personnel expression triumph.
Suitably complex with yearning minors, Mother features the trio performing a memorable composition. Littleton's deep-note sustain contrasts Wise's shimmering cymbals, while Morgan tells heart-wrenching truth. With a somewhat solemn theme, He Left Us a Song regularly bursts through into straight-ahead fast break sprints up and down the court. The unexpected "Study in C.T. offers an homage to Cecil Taylor and Morgan's musical roots with free improvisations on a dense and spiky theme. The exhilarating result has Morgan exploring his own way, with a winking slinging of jagged bass chords halfway through.
While a quarter century's experience has nurtured Morgan's prodigious gifts beyond this ambitious debut, Journey Into Nigritia offers enjoyable insights into his artistic evolution, while adding another precious title to the discography of one of the most woefully under-recorded greats of our time.                  
                                                                                            Review by   Rex Butters
Tracklisting
Side A: 1  Mrafu  2. Morning Prayer  3. Mother
Side B: 1   Journey into Nigritia  2.  He Left Us A Song 3. Study in C.T.    
Personnel: Nate Morgan – Piano              
                   Dadesi Komolafe* - Alto Saxophone
                   Jeff Littlejohn - Bass
                   Fritz Wise - Drums, Percussion
Producer – Tom Albach