---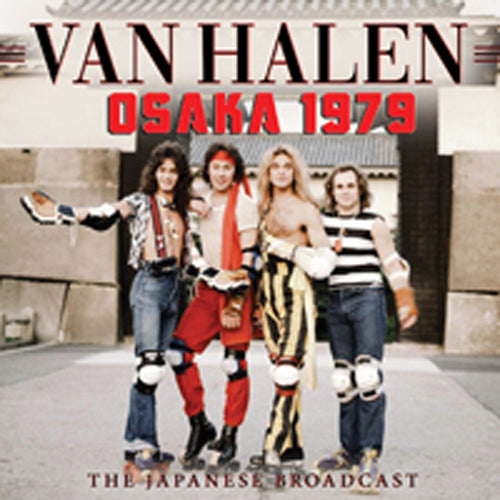 OSAKA 1979 
by VAN HALEN 
Compact Disc
SMCD977
Label: SMOKIN 
EXTRAORDINARY 1979 BROACAST RECORDING FROM JAPAN 
Formed in Pasadena, California in 1972, Van Halen were credited with "restoring hard rock to the forefront of the music industry."

Known for its energetic live shows and for the work of its acclaimed lead guitarist, Eddie Van Halen, the band was inducted into the

Rock and Roll Hall of Fame in 2007.

From 1974 until 1985, Van Halen consisted of Eddie Van Halen; Eddie's brother, drummer Alex Van Halen; vocalist David Lee Roth;

and bassist Michael Anthony. Upon its release, the band's self-titled debut album reached No. 19 on the Billboard pop music charts. By the early 1980s, Van Halen was one of the most successful rock acts of all time. The album 1984 was a huge hit; its lead single,'Jump', remains the band's only U.S. number one single to date and was internationally renowned.

In mid-1977, Mo Ostin and Ted Templeman of Warner Bros. Records saw Van Halen perform at the Starwood in Hollywood. Although the audience was small, Ostin and Templeman were impressed and within a week they offered the band a recording contract. The group recorded their debut at Sunset Sound Recorders studio in mid-September to early October 1977.

Upon its release, Van Halen reached No. 19 on the Billboard pop music charts, one of rock's most commercially successful debuts. It was highly regarded as both a heavy metal and hard rock album. The band returned to the studio in late 1978 to record Van Halen II, a1979 album similar in style to their debut. This record yielded the band's first hit single, 'Dance the Night Away'.

On March 26th 1979 Halen began their mammoth 'World Vacation Tour' which ran for eight months across North America, Europe andJapan and featured classic gig after classic gig, turning the band from second league rockers to a top-drawer act in a number of months.

Already hugely popular in Japan before the tour began, Van Halen played seven nights there in early-to-mid September, performing a show in each of Nagoya, Kyoto, Fukuoka, Tokyo and Kurashiki, and two shows - on September 10 and 11th - in Osaka.

The second night Halen played in Osaka – at the Osaka Prefectural Gymnasium – the concert was recorded for live FM broadcast, on both TV and Radio, and remains perhaps the finest performance the band gave on the entire tour.

Previously unreleased, this stunning show is now available on this new CD for the first time, allowing all fans to finally hear VanHalen's best concert from their stunning 1979 tour.
1 Light Up The Sky  3:24
2 Somebody Get Me A Doctor  3:28
3 Drum Solo  2:50
4 Runnin' With The Devil  3:01
5 Dance The Night Away  3:04
6 Beautiful Girls  3:19
7 On Fire  7:22
8 Bass Solo  1:55
9 You're No Good  2:57
10 Jamie's Cryin'  4:25
11 Osaka Gypsy Woman Blues  5:52
12 Feel your Love Tonight  4:43
13 Outta Love Again  1:31
14 Ice Cream Man  5:58
15 Ain't Talkin' 'Bout Love  6:31
16 Spanish Fly/Eruption  6:47
17 You Really Got Me  7:47
18 Bottoms Up  4:01
19 Atomic Punk  2:53