---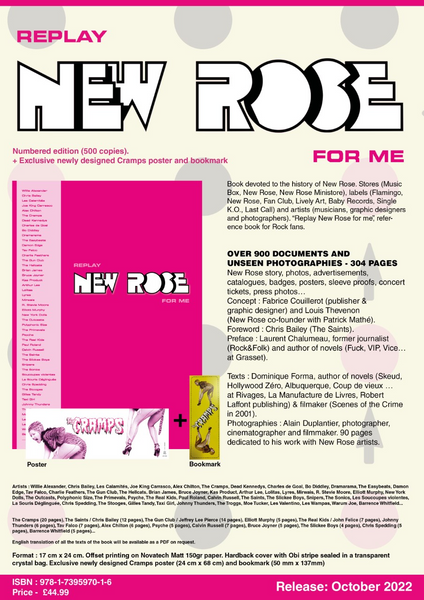 Replay New Rose For Me
Catalogue No:9781739597016
Barcode:9781739597016
Number of Items:1
Manufacturer:MOONBOY
Book devoted to the history of New Rose. Stores (Music Box, New Rose, New Rose Ministore), labels (Flamingo, New Rose, Fan Club, Lively Art, Baby Records, Single K.O., Last Call) and artists (musicians, graphic designers and photographers). "Replay New Rose for me", reference book for Rock fans.

304 PAGES : OVER 900 DOCUMENTS AND UNSEEN PHOTOGRAPHIES

HARDBACK COVER AND OBI STRIP
BRAND NEW CRAMPS POSTER DESIGN
Book devoted to the history of New Rose. Stores (Music Box, New Rose, New Rose Ministore), labels (Flamingo, New Rose, Fan Club, Lively Art, Baby Records, Single K.O., Last Call)



and artists (musicians, graphic designers and photographers). "Replay New Rose for me", reference book for Rock fans.


OVER 900 DOCUMENTS AND UNSEEN PHOTOGRAPHIES - 304 PAGES
New Rose story, photos, advertisements, catalogues, badges, posters, sleeve proofs, concert tickets, press photos…
Concept : Fabrice Couillerot (publisher & graphic designer) and Louis Thevenon (New Rose co-founder with Patrick Mathé).
Foreword : Chris Bailey (The Saints).
Preface : Laurent Chalumeau, former journalist (Rock&Folk) and author of novels (Fuck, VIP, Vice… at Grasset).
Texts : Dominique Forma, author of novels (Skeud, Hollywood Zéro, Albuquerque, Coup de vieux … at Rivages, La Manufacture de Livres, Robert Laffont publishing) & filmaker (Scenes of the Crime in 2001).
Photographies : Alain Duplantier, photographer, cinematographer and filmmaker. 90 pages dedicated to his work with New Rose artists.
New Rose record sleeve graphic designers : Philippe Huart & Pearl Chollet.
Photographers : Alain Duplantier, Youri Lenquette, Claude Gassian, Jean-Baptiste Mondino…

Artists : Willie Alexander, Chris Bailey, Les Calamités, Joe King Carrasco, Alex Chilton, The Cramps, Dead Kennedys, Charles de Goal, Bo Diddley,

Dramarama, The Easybeats, Damon Edge, Tav Falco, Charlie Feathers, The Gun Club, The Hellcats, Brian James, Bruce Joyner, Kas Product, Arthur Lee, Lolitas, Lyres, Mirwais, R. Stevie Moore,

Elliott Murphy, New York Dolls, The Outcasts, Polyphonic Size, The Primevals, Psyche, The Real Kids, Paul Roland, Calvin Russell, The Saints, The Slickee Boys, Snipers, The Sonics, Les Soucoupes violentes, La Souris Déglinguée,

Chris Spedding, The Stooges, Gilles Tandy, Taxi Girl, Johnny Thunders, The Troggs, Moe Tucker, Les Valentino, Les Wampas, Warum Joe, Barrence Whitfield...
The Cramps (20 pages), The Saints / Chris Bailey (12 pages), The Gun Club / Jeffrey Lee Pierce (14 pages), Elliott Murphy (5 pages), The Real Kids / John Felice (7 pages),

Johnny Thunders (6 pages), Tav Falco (7 pages), Alex Chilton (6 pages), Psyche (5 pages), Calvin Russell (7 pages), Bruce Joyner (5 pages), The Slickee Boys (4 pages), Chris Spedding (5 pages), Barrence Whitfield (5 pages)...

Format : 17 cm x 24 cm. Offset printing on Novatech Matt 150gr paper. Hardback cover with Obi stripe sealed in a transparent crystal bag. Numbered edition (500 copies).
+ Exclusive newly designed Cramps poster (24 cm x 68 cm) and bookmark (50 mm x 137mm)

English translation of all the texts of the book will be available as a PDF on request.