---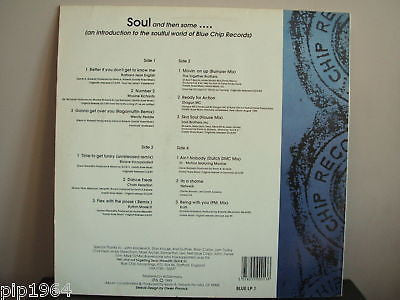 format = 12 inch vinyl double lp  rare and classic dance / soul tracks 
artist = various ,

A1. Barbara Jean English : Better if you dont get to know me
A2 Maxine Richards : Number 2
A3 Wendy Peddie : Gonna get over you
B1 The Together Brothers : Movin on up (Bimper mix)
B2 Shogun MC : Ready for action
B3 Soul Brothers Inc : Ska Soul
C1 Bizarre Incorporated : Time to get funky
C2 Chain reaction : Dance freak
C3 Rythm mode D : Flex with the posse
D1 In Motion : Aint nobody
D2 Netwerk : Its a shame
D3 Koffi : Being with you
lp title  / tracks = soul and then some

record label =  blue chip
cat number = blue lp 1
year of release = 1989
county of issue / pressing = uk
vinyl condition =  both excellent 
sleeve condition =   very good +  , light wear to edges and corners , seam unstuck , small sticker damage to front

inners / inserts = plain inner's are excellent

                             all records will be mailed in stiff card mailing envolopes
                             with stiff cardboard inserts for extra protection
                                                     we ship worldwide
                                               recorded delivery is extra
                              overseas shipping costs are as stated in the listing
                            records are graded using the uk record collectors
                           magazine / book system .. we usually listen to all record
                           before they are listed too, any problems can usually be
                          sorted without too much fuss...any questions please ask
                                                 we also buy record collections !
---
On 07-Apr-05 at 19:04:49 BST, seller added the following information:
Pay instantly with your debit or credit card through PayPal.