---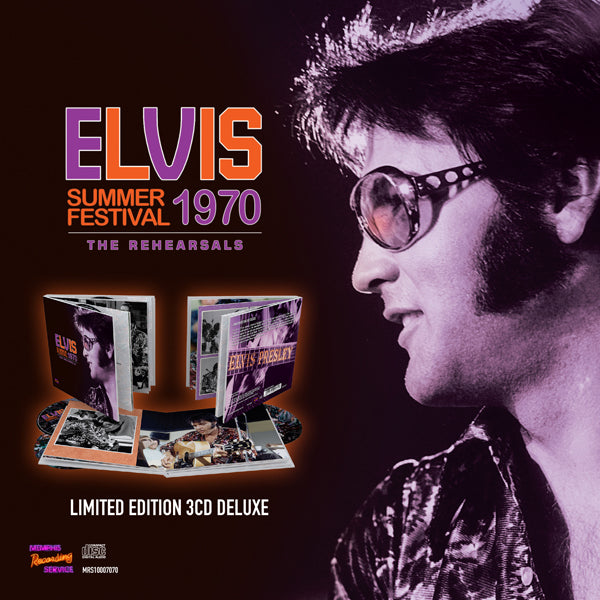 SUMMER FESTIVAL 1970 - THE REHEARSALS (DELUXE 3CD + BOOK)
by ELVIS PRESLEY
Compact Disc Book
MRS10007070
Label: MEMPHIS RECORDING
Elvis Presley needs no introduction, born Elvis Aaron Presley he is also known simply as Elvis, an American singer, musician and actor. He is regarded as one of the most significant cultural icons of the 20th century and is justifiably referred to as the "King of Rock and Roll" or simply "the King". His energized interpretations of songs and sexually provocative performance style, led him to both great success and initial controversy.
This limited edition deluxe 3CD plus book contains rehearsal highlights from one of the most memorable periods in Elvis' career - his captivating performances at The International Hotel Las Vegas in the summer of 1970. These truly historical recordings, re-mastered and restored harness the raw and early development of songs that were performed weeks later in Las Vegas. The accompanying booklet includes rare photographs taken at some of these rehearsal sessions - a must for any true Elvis Collector!

With his rise from poverty to significant fame, Presley's success seemed to epitomize the American Dream. He is the best-selling solo music artist of all time, and was commercially successful in many genres, including pop, country, R&B, adult contemporary, and gospel. He won three Grammy Awards, received the Grammy Lifetime Achievement Award at age 36, and has been inducted into multiple music halls of fame.

CD1
MGM Sound Stage 1, Culver City, Los Angeles, California
14th July 1970
1. Words
2. Bridge Over Troubled Water
15th July 1970
3. Stagger Lee
4. Got My Mojo Working
5. I've Lost You
6. Stranger in the Crowd (Rehearsal 1) 
7. The Next Step is Love
8. You Don't Have to Say You Love Me
9. Sweet Caroline
10. Yesterday
11. Ghost Riders in the Sky
12. Runaway
13. Peter Gunn Theme
14. One Night
15. Alla En El Rancho Grande
16. That's All Right 03:09 Arthur Crudup
17. Twenty Days & Twenty Nights (Rehearsal 1)
18. Twenty Days & Twenty Nights (Rehearsal 2)
19. Patch It Up
20. Cotton Fields
21. Sylvia
22. Stranger in the Crowd (Rehearsal 2)
CD2
RCA Studios, Hollywood, California
24th July 1970
1. That's All Right
2. I Got a Woman
3. The Wonder of You
4. I've Lost You
5. The Next Step Is Love
6. Stranger in The Crowd
7. You've Lost That Lovin' Feelin' (Rehearsal 1)
8. Something
9. Don't Cry Daddy/Don't Cry Daddy (faster version)
10. You Don't Have to Say You Love Me
11. Polk Salad Annie
12. Bridge Over Troubled Water
13. I Can't Stop Loving You
14. Just Pretend
15. Sweet Caroline
16. Words
17. Suspicious Minds
Bonus Stereo Mix Tracks
18. You've Lost That Lovin' Feelin' (Rehearsal 1)
19. Sweet Caroline
CD3
RCA Studios, Hollywood, California
24th July 1970 (continued)
1. I Just Can't Help Believin' (1)
2. Tomorrow Never Comes
3. Mary in the Morning
4. Twenty Days & Twenty Nights
5. You've Lost That Lovin' Feelin' (Rehearsal 2)
6. I Just Can't Help Believin' (2)
7. Heart of Rome
8. Memories
9. Johnny B. Goode
10. Make the World Go Away
11. Stranger in My Own Hometown
12. I Washed My Hands in Muddy Water
MGM Sound Stage 1, Culver City, California
29th July 1970
13. Elvis Talking
14. Something
15. (Now and Then There's) A Fool Such as I
16. Froggy Went A-Courtin'
17. Such A Night
18. It's Now or Never
19. Hava Nagila