---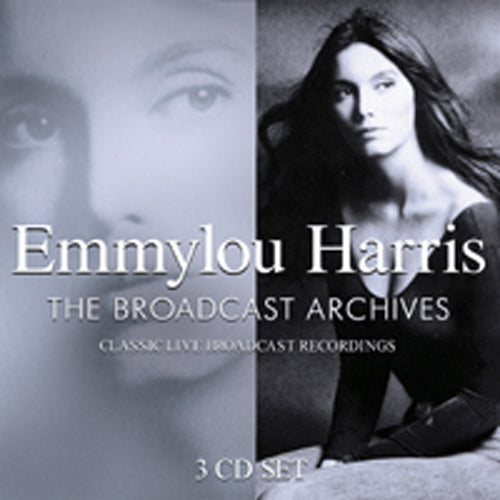 pre order item shipping on or around the release date 
*New Release*
released on 10th October 2020
THE BROADCAST ARCHIVES (3CD) 
by EMMYLOU HARRIS 
Compact Disc - 3 CD Box Set
BSCD6131
Label: BROADCAST ARCHIVE
THREE DISC SET OF EMMYLOU HARRIS'S FINEST LIVE PERFORMANCES
Performer, bandleader, interpreter of others' work, singer-songwriter, backing vocalist and duet or trio partner, Emmylou Harris has

worked with more musical greats than perhaps any other female performer, yet remains best known as a solo artist. The esteemed

Willie Nelson reckons; 'there are two type of people in the world; those who love Emmylou, and those who have never met her'.

Having released her first album in 1969, since when she has created a further twenty-one solo albums, in addition to collaborating with

everyone from Gram Parsons to Mark Knopfler, Harris's work remains unsurpassed.

This triple disc box set brings together 3 previously unreleased live shows from Emmylou Harris, all taken from FM Radio Broadcasts,

recorded at various times throughout the girl's career.

Disc One features her classic gig at Long Island's infamous rock venue, My Father's Place, made on 14th September 1976, between

the albums Elite Hotel (released December 1975) and Luxury Liner from January '77.

Disc Two houses Emmylou's performance for PBS's Soundstage series, made in Chicago in October 1978, when she performed with

her Hot Band, by then featuring the marvelous Ricky Skaggs on mandolin, fiddle and other bluegrass instruments.

Concluding this set, Disc Three contains Emmylou Harris and Spyboy playing a show at the Bottom Line in New York in December

1998.
DISC 1
1. Feelin' Single Seein' Double 3:10 2. One of These Days 3:38 3. Sweet Dreams 4:24 4. Return of the Grievous Angel 4:22 5. Bluebird Wine 4:19 6. Pancho and Lefty 5:23 7. The Bottle Let Me Down 4:23 
8. Country Boy 7:14 9. Sin City 4:22 10. Wheels 3:20 11. (You Never Can Tell) C'est La Vie 4:14 12. Ooh Las Vegas 4:04 13. Together Again 4:09 14. Jambalaya (On the Bayou) 3:30
DISC 2
1. Two More Bottles Of Wine 3:55 2. Easy From Now On 3:08 3. To Daddy 2:56 4. Luxury Liner 4:05 
5. Even Cowgirls Get The Blues 4:15 6. My Songbird 3:15 7. My Window Faces The South 2:42 
8. Tumbling Tumbleweeds 3:03 9. Home 4:16 10. Swing Down Sweet Chariot 2:28 11. I Ain't Living Long Like This 6:34 12. The Angels Rejoiced Last Night 2:30 13. Leavin' Louisiana In The Broad Daylight 3:40 14. Hallelujah I'm Ready To Go 3:41 15. Could You Love Me/The Green Rolling Hills 7:31 16. I Believe Jesus Loves Me 4:07 17. If I Needed You 4:52 18. Satan's Jewel Crown 4:50 19. Keep On The Sunny Side 3:53 20. Under The Weepin' Willow 3:51
DISC 3
1. Wrecking Ball 5:08 2. Pancho And Lefty 5:45 3. Two More Bottles Of Wine 3:50 4. I Ain't Living Long Like This 4:46 5. Love Hurts 3:33 6. The Other Side Of Life 2:58 7. Beneath Still Waters 3:24
8. Blackhawk 3:51 9. Going Back To Harlan 4:36 10. Deeper Well 7:07 11. Prayer In Open D 3:50 
12. Calling My Children Home 3:00 13. Abraham, Martin And John 3:15 14. All My Tears 4:34 
15. Wheels 3:07 16. Born To Run 3:42