---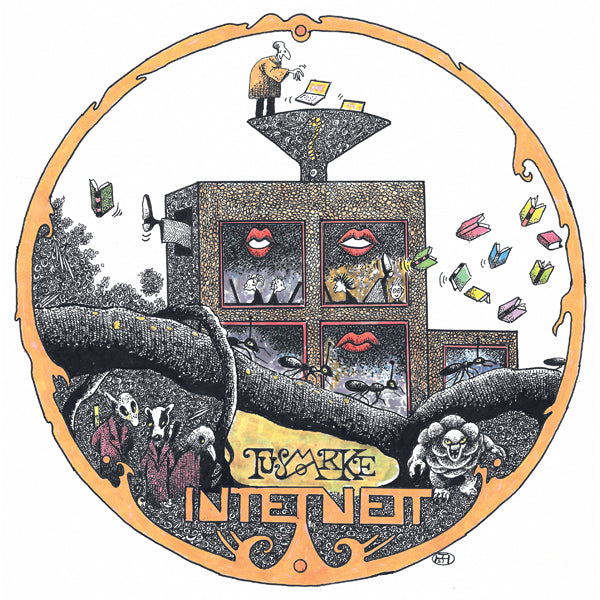 TUSMØRKE
INTETNETT
COMPACT DISC
Item no. :KAR224CD Barcode :7090008312246 Artist :TUSMØRKE Product type :Compact Disc Label :KARISMA RECORDS Release Date :07 October 2022
Norway's most far out and unique prog band TUSMØRKE is back – this time with another children's album about artificial intelligence, advancements in technology, the singularity – and ancient Mesopotamian gods, because Tusmørke never fails to teach us about the ancient forgotten history.
Intetnett tells a story about two evil scientists who plant a self-teaching computer system on an unsuspecting school. The system called Intetnett soon takes over the minds of pupils and teachers alike - exept for a technofobic Norwegian teacher, a substitute without login info and a small group of pupils. By using electronic impulses, the computer controls an ant colony living in the school kitchen, and starts taking control of everything.

The world then slips slowly into a totalitarian nightmare. No one thinks by themselves, no one dreams anymore, and human culture itself is in danger.
But someone is missing the humans! Down in the deepest depths, the old Mesopotamian gods are starving by lack of human attention. They want to help humankind to regain their freedom. The only thing that can stop Intetnett is technology from a bygone time: Magic! The Norwegian teacher, the substitute and the children are given instructions about how to summon a golem who can confront Intetnett, and pull the plug on the dangerous computers.

The album is comprised of the two original musicals "Intetnett" and "Når Enden er Golem", written for and first performed at Aktivitetsskolen Nordstrand in 2017/2018.
1. Satt i system
2. Det beste for budsjettet
3. Han er litterær
4. Varslerduett
5. Vikaren
6. Jakelstigen
7. Vi drikker ikke melk
8. Vi er elever
9. Maurenes Jenka
10. Undringstimen (CD only)
11. Kunstig Intelligens
12. Den nye tida
13. Synth etisk
14. Kunstig uintelligens
15. Gudenes krig
16. Verdensarvingen
17. Enki Dumuzi Absu (CD only)
18. Før flommen
19. Enkis sang
20. Golem
21. Kontakten brytes