---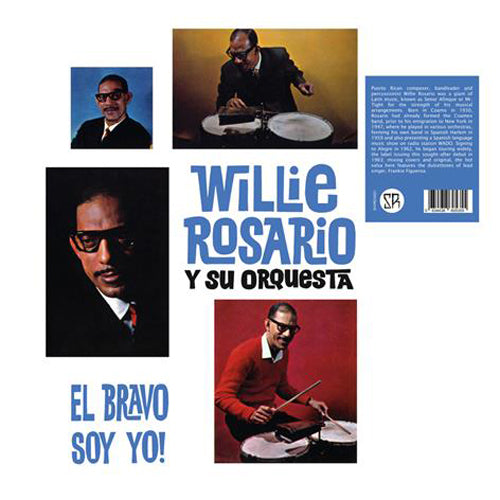 this is a pre order item and will ship on or around the release date of 20th October 2020
Willie Rosario and His Orchestra: El Bravo Soy Yo! 
VINYL LP   BARCODE:  0634438605355    PRICE: £11.25 
Puerto Rican composer, bandleader and percussionist Willie Rosario was a giant of Latin
music, known as Senor Afinque or Mr. Tight for the strength of his musical arrangements.
Born in Coamo in 1930, Rosario had already formed the Coamex band, prior to his
emigration to New York in 1947, where he played in various orchestras, forming his own
band in Spanish Harlem in 1959 and also presenting a Spanish-language music show on radio
station WADO. Signing to Alegre in 1962, he began touring widely, the label issuing this
sought-after debut in 1963; mixing covers and original, the hot salsa here features the dulcet
tones of lead singer, Frankie Figueroa.
Tracklist
Buscando Guaguanco 2:45
Eres Todo Para Mi 2:45
Dame Tu Amor Morenita 2:57
Dejame Estar Contigo 2:30
Lagrimas Negras 2:55
Mereces Que Te Quiera 2:30
Guaguanco Bonito 2:35
Dicelo A El 2:40
El Bravo Soy Yo 2:57

Te Amo En Silencio 2:35