---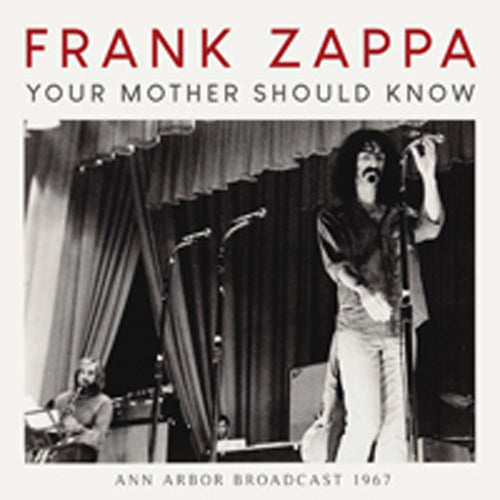 pre order item shipping on or around the release date 
*New Release*
released on 5th October 2020
YOUR MOTHER SHOULD KNOW 
by FRANK ZAPPA 
Compact Disc
GOSS040
Label: GOSSIP
STUNNING RADIO BROADCAST FROM THE MOTHERS IN LATE 1967
Frank Zappa and The Mothers Of Invention's second album, 'Freak Out' came out in May 1967, and in the wake of the record's

release the band toured in the US and Europe for pretty much the rest of the year. A short hiatus however, took place in August when Zappa released his debut solo-album Lumpy Gravy, initially on 4-track cartridge only on Capitol Records, but after legal action by Verve Records, it was withdrawn until 1968, when the record got a full release on Verve.

The Mothers continued touring in September, largely throughout Europe, during which Zappa played the famous Albert Hall in London for the first time - a venue at which he would later have a show cancelled for allegedly using obscene material. By November, theMothers were back on home turf, playing on the East Coast and it was during this tenure that, on December 2 and 3 '67 they played at The Fifth Dimension in Ann Arbor, Michigan, where they performed one of their very finest shows of 1967.

Recorded for live radio broadcast in the greater Michigan area, this show nevertheless remains unreleased until now, when the concert is finally made available for the first time on this stunning CD.
 1. Big Leg Emma  2:14
2. Improv  19:39
3. America Drinks And Goes Home  2:39
4. Hungry Freaks Daddy  3:50
5. King Kong  15:46
6. Status Back Baby  1:37
7. Frank Zappa Interview  5:39