---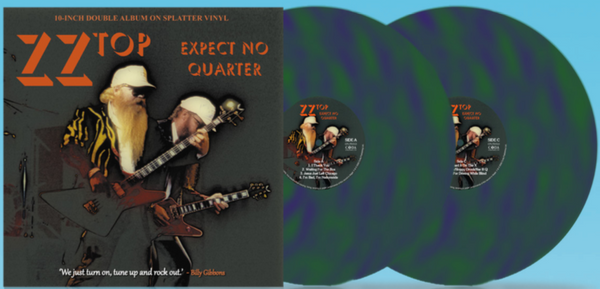 ZZ TOP
Expect No Quarter (Green & Purple Vinyl)
CPLTIV013 
2x10"
This limited edition 10-inch collector's double album pressed on green and purple vinyl comes in a gatefold sleeve.
This is the ultimate anthology featuring ZZ Top performing tracks drawn from their classic Degüello album.
The Expect No Quarter Tour was the legendary concert tour by ZZ Top.
The tour was in support of the album Degüello and took ZZ Top to Europe for the first time.
The powerful high octane set list included material from Degüello
and their previous albums, along with several covers.
The concert featured on this album is considered by many to represent the finest of
the ZZ Top tours and features the band at their most dynamic and powerful best.
Side A
1. I Thank You
2. Waiting For The Bus
3. Jesus Just Left Chicago
4. I'm Bad, I'm Nationwide
Side B
1. Low Down In The Street
2. A Fool For Your Stockings 3. Cheap Sunglasses
Side C
1. Heard It On The X
2. La Grange/Sloppy Drunk/ Bar B Q
3. Arrested For Driving While Blind
Side D
1. She Loves My Automobile
2. Hi Fi Mama
3. Dust My Broom
4. Jailhouse Rock
5. Tush